The Best Fall Yard Clean-Up in Canada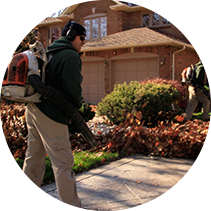 Give your property the treatment it deserves this fall with our thorough yard clean-up. This extensive service includes raking and collection of leaves and debris, fall pruning of shrubs and perennials, the removal of annual flowers, and a final lawn cutting. This service is an important part of preparing your lawn and garden for the winter as well as ensuring a healthy and vibrant lawn next spring. Book now in order to have your clean-up completed before the end of November.
Our service provides you with a fresh and tidy lawn before winter arrives and includes:
Raking and collecting leaves
Edging and turning garden beds
Shrub trimming
Final lawn mowing of the year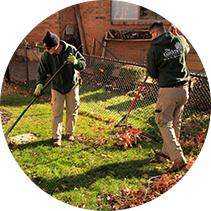 Why Does Your Lawn need a Fall Cleaning?
Neglecting to clean up your landscape before winter can have negative impacts on your property next spring and summer, besides the obvious aesthetic issues. Your turf and delicate plants can become smothered if the debris is left over the winter leading to dead grass and the loss of perennials next spring.
Would you like to skip your fall lawn maintenance chores this year? Request a free estimate for fall yard clean-up and other landscape services today.